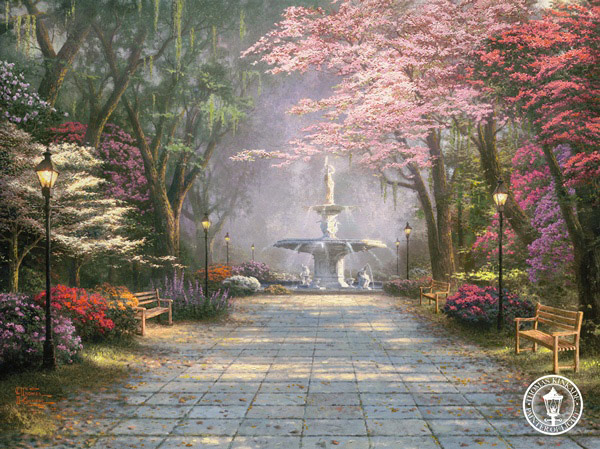 名稱:Savannah Romance
畫家:Thomas Kinkade
片數:300
尺寸:61X46cm
製造商:美國●Ceaco
編號:2202-20
---
這盒300片大拼片的拼圖
品質有比較好一些
拼片不會彎曲不平
也沒有開花的現象
美拼的品質還真是不太穩定......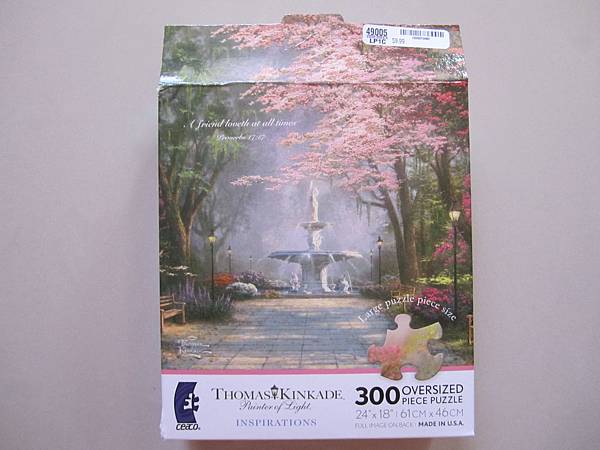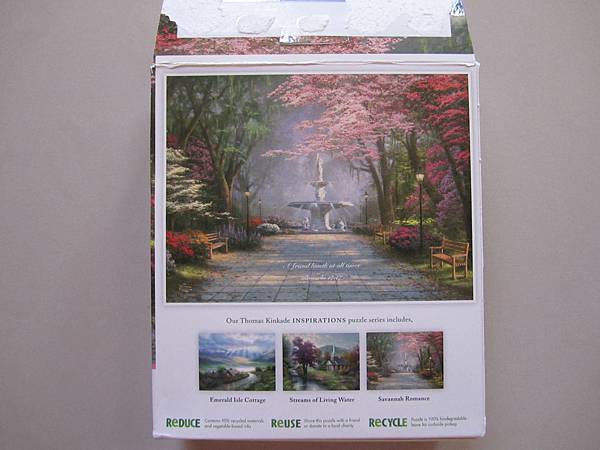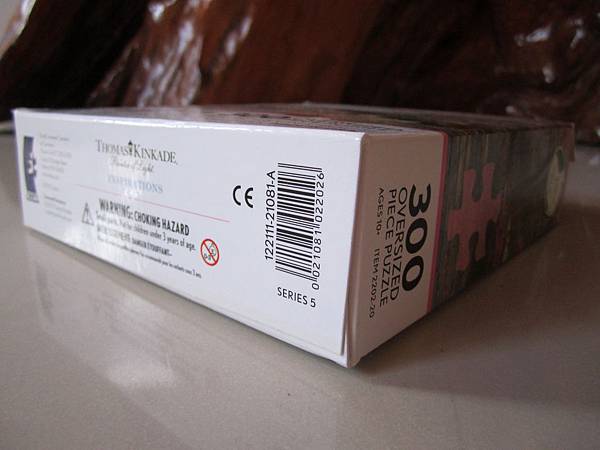 Thomas Kinkade對畫作的介紹-
"Savannah, Georgia has always been a city for romantics. There is no place quite like the Old South for exquisite natural beauty gracefully intertwined with rich history and charming architecture. And no place exemplifies the Old South quite like Savannah.

For those of you who have paid a visit to this enchanting Southern city, you may have found yourself strolling down the ancient and elegant lanes of Forsyth Park, the crown jewel of Savannah. Built during an age of urban idealism over a century ago, Forsyth Park remains one of the most visually abundant locales in all of Savannah. Her shady lanes are scented by multitudes of flowers, and anchoring the tranquil scene is the elegant Forsyth Fountain, a 150 year old Parisian-inspired architectural gem.

In my painting, Savannah Romance, I've included an abundance of color - dogwood and mimosa trees vie for attention with resplendent southern magnolias and lush azaleas. Reigning over it all is the majestic Forsyth Fountain, bubbling forth with blessings anew.

Whether you've been to Savannah, or simply admire a state of being that celebrates life's blessing, may Savannah Romance truly bring out the dreamer's heart in all of us. It is my hope that your imagination will take you on a stroll down this shaded pathway to discover your own fountain of many blessings."
圖片&資料來源:
http://www.artofthesouth.com/Thomas_Kinkade/Savannah_Romance_Thomas_Kinkade.php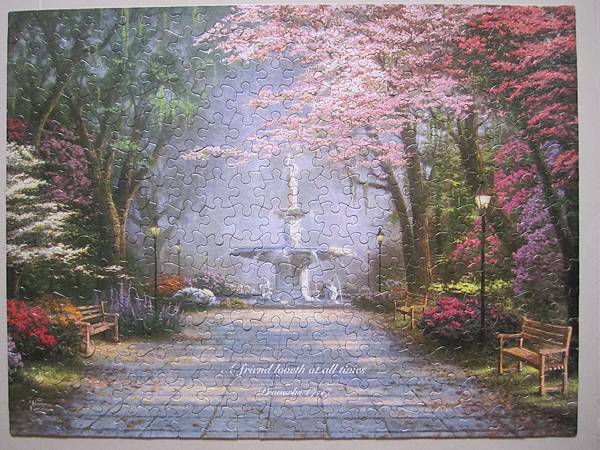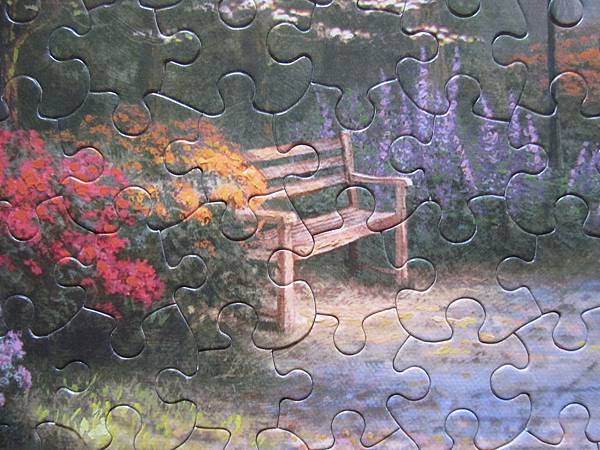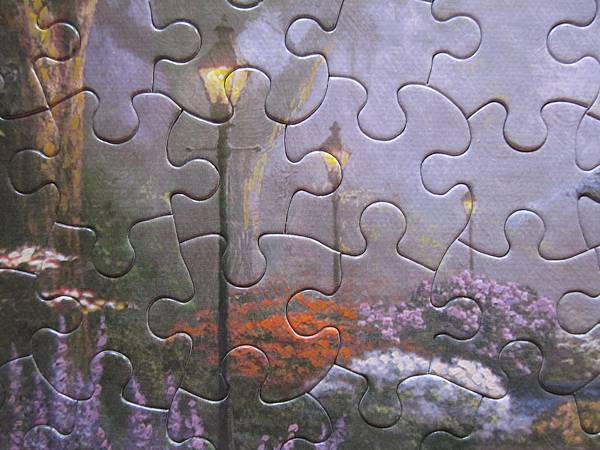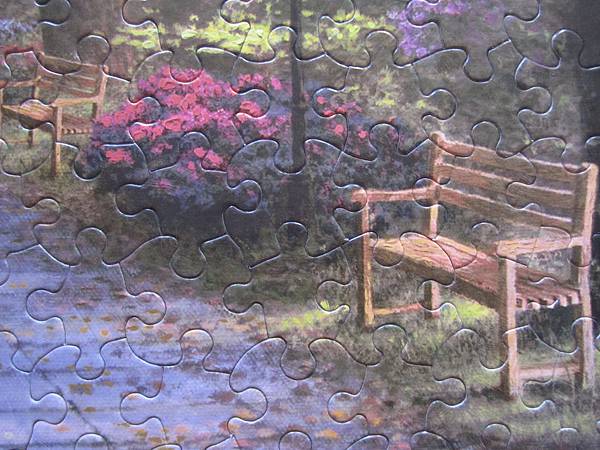 Proverbs 17:17
A friend loveth at all times, and a brother is born for adversity.
箴言 17:17
朋友乃時常親愛,弟兄為患難而生。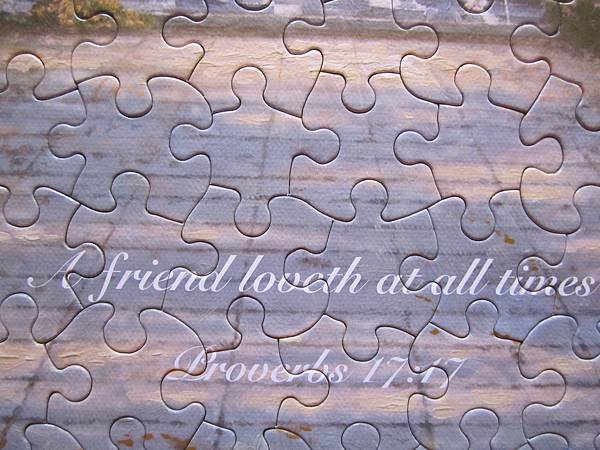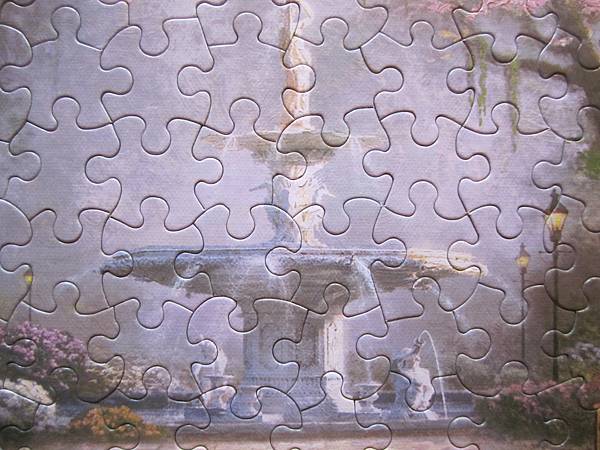 畫中的噴泉叫做Forsyth Fountain
位於美國喬治亞州Savannah的Forsyth Park
Forsyth Park is a large city park that occupies 30 acres (0.12 km2) in the historic district of Savannah, Georgia. The park is bordered by Gaston Street on the North, Drayton Street on the East, Park Avenue on the South and Whitaker Street on the West. It contains walking paths, a Cafe', a children's play area, a Fragrant Garden for the Blind, a large fountain, Tennis courts, BasketBall courts,areas for soccer/frizbee, and home field for Savannah Shamrocks Rugby Club. From time to time, there are concerts held at Forsyth to the benefit of the public.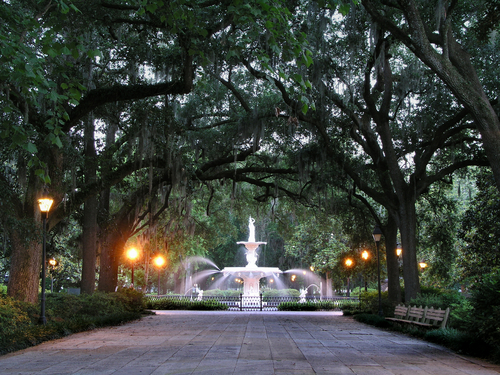 圖片來源:http://www.planetware.com/picture/savannah-forsyth-park-us-gaa206.htm